Using it as a questionnaire that has written questions in advance
Example: A questionnaire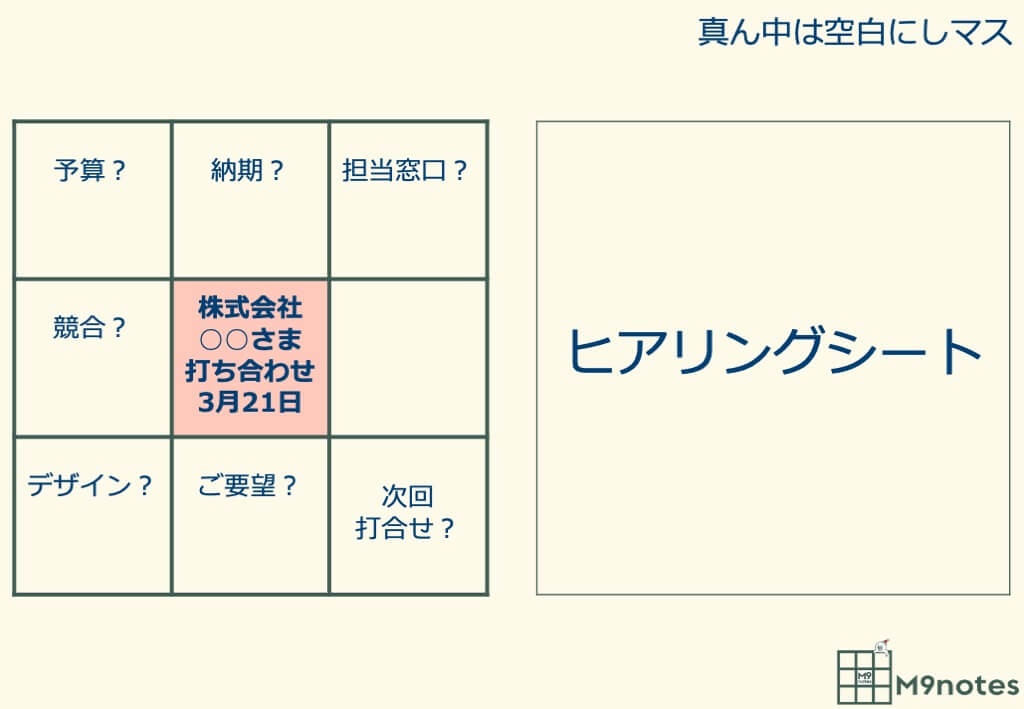 In this usage method, necessary questions are filled out in advance.
For example, don't you feel that you have to ask questions in order from the top if you have a list of questions in itemized form?
In conversations with customers, changing the order of the questions prepared in advance as appropriate according to the situation should be able to create a smooth flow.
When M9notes is used as a questionnaire, questions are not perceived as having priority due to the non-permuted arrangement.
Thus, every question can be adjusted to the flow of the conversation.
The extra linguistic information that the brain gains from vision is very large.
If your actions can be free with just one notebook, you will be happy.
This is the usage you want to use for sales and business professionals who work with customers.
Constructing a Well-Organized Story or Presentation
For example, when making a speech manuscript, when writing an essay, when thinking of a presentation chapter, and when you create a story, you need a well-organized composition. In Japanese, we call it "Kishoutenketsu". It consists of 1: Problem, 2: Cause, 3, Solution, 4, Action.
The composition can be made by including the fact that each of the 1,2,3,4 squares corresponds to "Kishoutenketsu"= 1: Problem, 2: Cause, 3, Solution, 4, Action.
You can write supplementary information in 1´2´3´4´.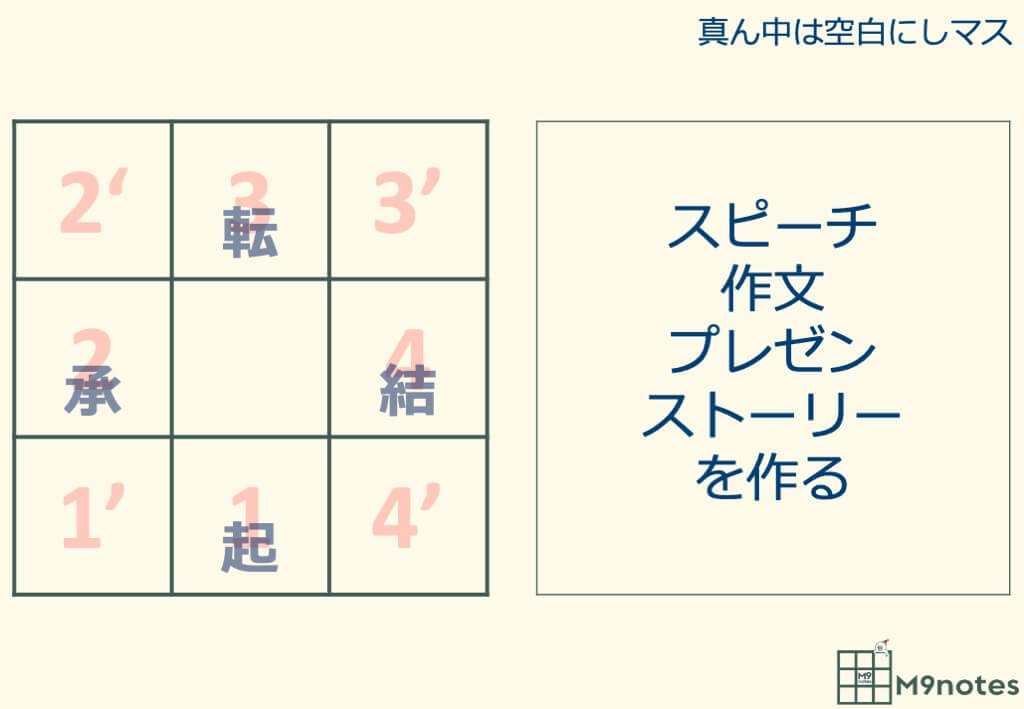 起承転結は
問題・原因・解決・実践」
「P(Plan=計画)・D(Do=実行)・C(Check=評価)・A(Action=改善)」 などに置き換えて使ってもいいですね!
It can be used in such following cases!
・When making a speech manuscript
・When creating presentation materials
・When writing a essay
・When thinking about the composition of a 4-frame comic (Yonkoma)

There are many ways to use M9notes in each pattern, and we would like to introduce the typical ones in each pattern together with the drawing.
The good thing about M9note is that there is no limit to how to use it.
The four patterns are just one example of usage.
We would like to see you apply it or create an original way of use that will make your thinking even more advanced. It is very welcome to hear from you about how you use it.
In addition, it's completely normal that all the grids do not need to be filled.
That is why you see the empty grids in the examples.